Beetronix Solutions offer Australia's most reliable POSTAL REPAIR SERVICE for video gaming consoles, iPhones, iPads and iPod Touches.
 We recommend you send your gaming consoles and Apple units carefully packaged, with a relevent printout of an email you've received from us AND a copy of our job form (click here to download) with all the details filled out.
Our address:
Beetronix Solutions
135A Nuwarra Road
Moorebank NSW 2170
Australia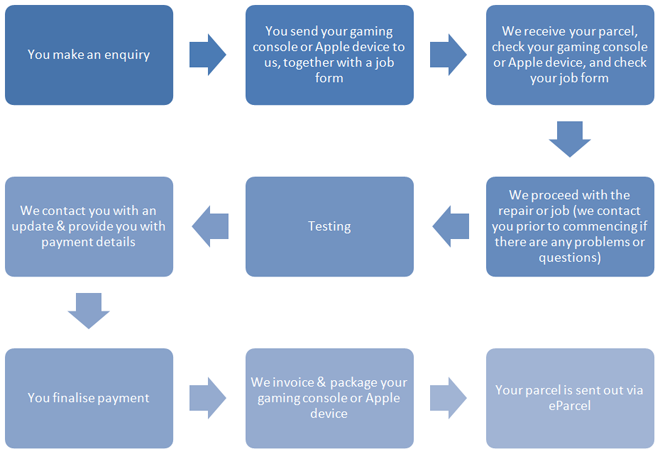 Important information you should know
For PSP, PS Vita and DS series consoles, it is recommended the consoles be wrapped in a good layer of bubble wrap or placed in its protective case then wrapped in bubble wrap. If you have used a good layer of bubble wrap, you can simply place the item in an Australia Post tough bag/padded. Otherwise you can place it in a box.
For any iPod or iPhone units, it is recommended the unit be wrapped in a good layer of bubble wrap and sent in an Australia Post padded bag/padded bag or box.
For Xbox 360, Xbox 360 S, Xbox One, Xbox One S, Xbox One X, PS3, PS3 Slim, PS3 Super Slim, PS4, PS4 Slim, PS4 Pro consoles, it is recommended you wrap the console in a good layer of bubble wrap and package it in an Australia Post box size BT, or your own similar sized box. Alternatively you may also use the original box of the unit.
For Wii, Wii U consoles and iPads, it is recommended you wrap the console in a good layer of bubble wrap and package it in an Australia Post box size BM, or your own similar sized box and some extra bubble wrap.
Please DO NOT use bean bag stuffing or any small pieces of foam as this is very time consuming to clean up and which may result in you paying an extra $10 for our time. Not to mention, small pieces may also lodge into the small openings or vents of your console.
DO NOT send any accessories, controllers, cables or power packs unless instructed to do so. Please send the unit itself only. You're welcome to check with us if you are unsure.
Any devices suspected of being pest infested (cockroaches) should be double bagged and sealed prior to being boxed. There is a $15 cleaning fee for any infested units, irrespective if the unit is repaired successfully or not.
It is highly recommended you send your consoles or units via Parcel Post with Signature or courier. It is optional whether you choose to pay for additional insurance cover.
Please note that Beetronix Solutions does not bear any responsibility for the loss of any parcels by Australia Post or any other courier company.
Please note that Beetronix Solutions does not bear cost of incoming postage (parcels you send to us) under any circumstance.
Once your parcel has been received, we will normally examine your device and contact you within 1-3 working days depending on our workload at the time and depending on the presenting issue. If you have already been given a preliminary quote & our diagnostic procedure confirms the quote, we will go ahead & proceed with the repairs. If no preliminary quote has been provided yet or we need to discuss further or re-quote, we will contact you via email or phone.
If the condition of your gaming console or Apple device differs from that of your description, we will contact you to discuss & provide you with a more accurate quote. No work is commenced until given the OK by you.
Once your job is complete we contact you via email (primary) or phone (secondary) to finalise payment. After payment is finalised we will have your console or unit packaged with your invoice, and sent out at the first parcel despatch available.
Please be advised that during the course of examining or diagnosing issues with your device, we will most likely need to open or disassemble your device in order to properly assess or diagnose. If you have an issue with this, please contact us prior to sending your device in for repairs.
For any further questions you may have, please check out our FAQs page, Payment Options page or contact one of team members via email, phone or enquiry form.
Shipping and Delivery Policy
We ship your items Australia wide using Australia Post's PARCEL POST with signature. We do not charge postage costs in addition to our repair fee, however reserve the right to charge a return postage fee ($15) in individual circumstances where items have been sent however are found to be in good working order, or are non-repairable. Items are usually dispatched within 1 business day after payment has cleared and shipping times are estimated at between 1-7 business days depending on your location within Australia. Items received via our Pick Up Service (Sydney only) are dispatched as above once payment has been finalised. Requests to return via Express Post is available upon request, at additional charge to customer, please contact us directly for a quote.