The Xbox 360 Red Ring of Death is described as a gaming enthusiast's worst nightmare. Some describe it as a death in the household. It is characterised by the lighting up of the LED lights on the front of the console. The LEDs, which are normally green and form a ring of light when the console is turned on, flash red indicating a hardware malfunction has occurred. Only three lights in the ring turn red- the upper right quadrant light is the only light that does not flash red. The result of this renders the console unusable.
SquareTrade, a well-known warranty provider whom conducted a study on a sample group of some 1000 SquareTrade warranties for the Xbox 360 between April 1 and July 31 2007, reported that Microsoft's Xbox 360 ultimate gaming console had a failure rate of 16.4%. 9.8% of these failures were due to the "Red Ring of Death" (RROD) hardware malfunction.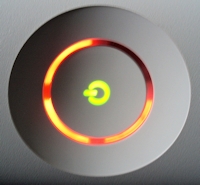 The percentage rates above are only indicative of warranties covered by SquareTrade. A more accurate representation of the failure rate of Microsoft's Xbox 360 gaming console can be made by taking into large consideration the extended Microsoft warranty, meaning many problematic Xbox 360 consoles would have been directed to/sent to Microsoft itself. In addition, there would be a certain number of consoles that would have ended up at gaming console repair businesses or backyard hobbyists or even victim to the self-fix customers, whom their warranties ran out, didn't want to pay for the repair of the manufacturing fault, or were not patient enough to wait for the whole Microsoft repair process.
Other problems reported were power issues, disc read errors, hard drive malfunctions and video card failures.
Sources say that the Xbox 360 has experienced as much as a 40% failure rate, mostly attributed by the notorious three flashing lights, however this has not yet been confirmed. We can certainly say though, that gaming console repair specialists such as Beetronix Solutions, have been inundated with enquiries and repair requests for the hardware malfunction, due to Microsoft's haste to release the first Next Generation gaming console. It would not be surprising if the unconfirmed 40% failure rate was indeed correct.
Many Xbox 360 owners who have met with the fatal problem will have most probably logged online to do some research. The how and whys are diverse, depending on what sites you're on, and can be quite confusing to those who are not technical or are just casual gamers. Many technicians (and modders) agree though, that the RROD has been caused mainly by a combination of overheating, bad manufacturing and inadequate quality control.
With our technological capabilities today and our ability to build stronger and higher performing main processors (CPUs) and graphics processors (GPUs)- that draw even more power thus generating more heat and stress within a system – it is of utmost importance to focus on internal heat/thermal management. The Xbox 360 gaming system, undoubtedly equal to that of a computer in terms of hardware and capabilities, is more much more compact and offers very little ventilation compared with the computer. As the system draws power and generates excessive amounts of heat, dissipation of heat is inadequate and the connections between the CPU and GPU, and the console's motherboard becomes stressed.
The motherboard itself is connected to the case by the edges, rather than being centrally pinned which results in the flexing and warping of the motherboard as the system reaches excessive temperatures. Together with inadequate heat sinks (metal grill-looking object that absorbs and dissipates heat from the chips using thermal contact) and the way they are attached to the board, places stress on the corners of the CPU and GPU and detaches the chips off their solder joints, and most importantly the BGA eprom chip. This is a major cause of the RROD.
Those who are a little technical and have exceeded their warranty, may have researched online on how to take matters into their own hands and self-fix the problem. Various 'cures' and 'fixes' to rid the dreaded three red lights are documented widely online, including the towelling method, clamping method (X-Clamp fix), installing extra and more powerful fans, as well as professional technicians developing their own fix methods or use a combination of methods.
It is not recommended that you take your console apart and try to repair or fix it yourself unless you really do know what you're doing. Some have been lucky to succeed in removing the three flashing lights, however others haven't been quite as successful and consequently end up taking the console to a gaming technician in a worse state and decreasing the chances of properly getting it up and running again.
Some pondering thoughts on the Xbox 360 Red Ring of Death (RROD)…
It can strike an unsuspecting owner without any given warning, or games will start to freeze once the console heats up whilst in play (especially for high graphics games such as Call of Duty 4).
Turn the console off. Let it cool (for hours or maybe even days). Unplug all the cables and remove the hard drive. Try re-plugging all cables and hard drive back and booting up again. If you are lucky the 360 ring of death will have gone away.
Not all Xbox 360s face the red ring of death. Yes, a modded console can face the red ring of death, however it does not cause it. Take regular breaks to let your console and the system within it COOL DOWN.
Beetronix repairs Xbox Ring of Death problems Australia-wide, so if you are in Melbourne, Brisbane, Perth, Adelaide, Canberra, Sydney, Hobart or Darwin, or anywhere in between, we can help you with our postal repair service.