COVID-19 Notice (From 11 October 2021)
We are continue to accept devices for repair. You may choose any logistics service to send to us: Aust Post, courier, Sendle, Uber. Please ensure you have the tracking details so you can track your parcel. If sending via a service such as Uber, please organise for the delivery to occur during our current business hours only. Thanks.  
Beetronix Solutions offer Australia's most reliable POSTAL REPAIR SERVICE for video gaming consoles, iPhones, iPads and iPod Touches.
We recommend you send your gaming consoles, tablets, mobile phones & laptops carefully packaged, with a relavent printout of an email you've received from us AND a copy of our job form (click here to download) with all the details filled out.
Our address:
Beetronix Solutions
135A Nuwarra Road
Moorebank NSW 2170
Australia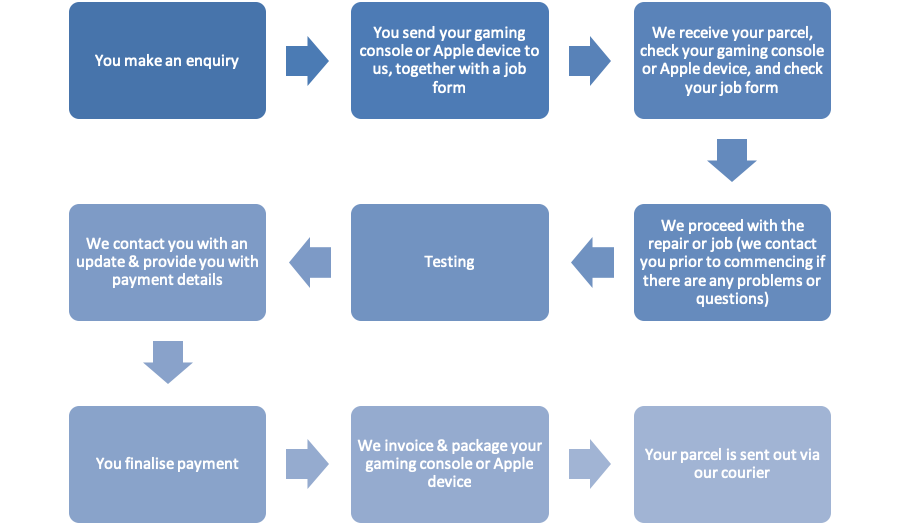 Important information you should know
For PSP, PS Vita, DS series or similar handheld gaming console, it is recommended the consoles be wrapped in a good layer of bubble wrap or placed in its protective case then wrapped in a good layer of bubble wrap and placed in a shoe-box sized box. Australia Post has box size BX1 which is suitable.
For any iPod, iPhone or other branded phone, it is recommended the unit be wrapped in a good layer of bubble wrap then placed in a good layer of bubble wrap then placed in a shoe-box sized box. Australia Post has box size BX1 or BX6 which is suitable.
For Xbox 360, Xbox 360 S, Xbox One, Xbox One S, Xbox One X, PS3, PS3 Slim, PS3 Super Slim, PS4, PS4 Slim, PS4 Pro consoles, it is recommended you wrap the console in a good layer of bubble wrap and package it in a small suitcase sized box. Australia Post has box size 'Extra Large' which is suitable. The original box of the console can also be used if it is still in a good and sturdy condition (it will be returned to you in on return).
For Wii, Wii U consoles and iPads or other branded tablets, it is recommended you wrap the console in a good layer of bubble wrap and package it in a large shoe-box sized box. Australia Post has box size BX2 which is suitable. If you are required to send the Wii-U GamePad, you may need a bigger size box.
For laptops, it is recommended you wrap the device in a good layer of bubble wrap and package it in a sturdy box. Australia Post has box size BX19 which is suitable for most standard sized laptops.
Please DO NOT use bean bag stuffing or any small pieces of foam as this is very time consuming to clean up and which may result in you paying an extra $10 for our time. Not to mention, small pieces may also lodge into the small openings or vents of your console.
DO NOT send any accessories, controllers, cables or power packs unless instructed to do so. Please send the unit itself only. You're welcome to check with us if you are unsure.
Any devices suspected of being pest infested (cockroaches) should be double bagged then taped prior to being boxed. There is a $15-30 (depends on severity) cleaning fee for any infested units, irrespective if the unit is repaired successfully or not. If the console is extremely infested we may opt to decline the cleaning & repair due to OH&S reasons.
Once your parcel has been received, we will normally examine your device and contact you within 1-5 working days depending on our workload at the time, the presenting issue, number of staff we have available, etc. If you have already been given a preliminary quote & our diagnostic procedure confirms the findings coincide with the preliminary quote, we will go ahead & proceed with the repairs. If no preliminary quote has been provided yet or we need to discuss further or re-quote, we will contact you via email or phone.
If the condition of your gaming console, phone, tablet or laptop differs from that of your description on pre-repair testing or examination, we will contact you to discuss further & provide you with a more accurate quote based on our findings.
Once your job is complete we contact you via email (primary) or phone (secondary) to finalise payment. After payment is finalised we will have your device packaged with your invoice, and sent out at the first parcel despatch available. 
Please be advised that during the course of examining or diagnosing issues with your device, we will most likely need to open or disassemble your device in order to properly assess or diagnose. If you have an issue with this, please contact us prior to sending your device in for repairs.
For any further questions you may have, please check out our FAQs page, Payment Options page or contact one of team members via email, phone or enquiry form.
Shipping and Delivery Policy
Beetronix currently use a courier service or Australia Post to despatch our parcels. Your location will largely be the deciding factor for which service your parcel will be sent out. Parcels are tracked. Parcel delivery times are between 8am-6pm weekdays. Unfortunately this time cannot be broken down & the driver is not able to call prior to arrival. It is possible for the parcel to be left in a safe place or you will receive a card to pick up the parcel at your nearest pick up centre (Post Shop, authorised newsagent or similar).
We ship your items to most areas of Australia free of charge with a successful repair. We reserve the right to charge a return postage fee ($20-30) for non-repairable devices or in individual circumstances where items have been sent however are found to be in good working order (thus requiring no repairs). Items are dispatched upon completion of payment and shipping times are estimated at between 1-7 business days depending on your location within Australia. Items received via our Pick Up Service (Sydney only) are despatched as above once payment has been finalised.